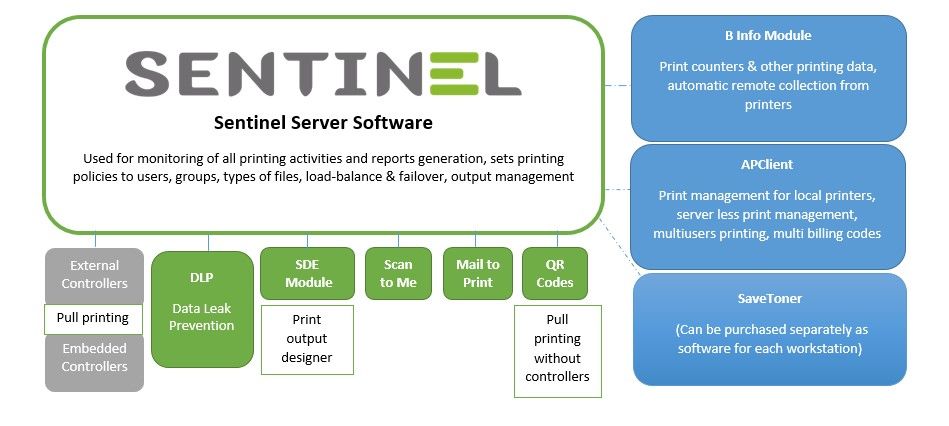 Sentinel server software is used for monitoring printing activity and producing printing activity reports.
When used with controllers it completely secures printing devices, prevents data leak and data loss through printers, secures print, copy and scan functions, sets permissions and printing quotas.
Managing printing output, all aspects of printing, copying and scanning as well as user authentication can be customized according to customer needs with powerful scripting.
Distributed printing via WAN or VPN can be set up using any data source (Unix, Mainframe, etc.).
No need to upgrade existing network infrastructure to manage and secure printing with Sentinel, the system can function with any quality of Internet connection. All communication is encrypted.
Sentinel has built-in load balance & automatic failover.
In case if the connection between branches of the organization is not stable and can be interrupted Sentinel can be set up in traffic less mode, compressing print jobs or sending only metadata over Internet keeping the print job on the PC.
Sentinel can secure & monitor network printing devices as well as USB printers connected locally using APClient application (the installation and update process are effortless and are done in a centralized manner for any number of PCs).
Setup process of Sentinel is simple and convenient, the APClient requires no configuration and is done in silent mode. Simple, Cross-Platform Implementation of Printing Software and Easy integration into any printing environment.
Using Sentinel without controllers
Sentinel basic server software can be used as stand-alone software for monitoring network printers and reporting.
No controllers are needed in the case of monitoring printing activity only.
The printers are configured to be "Push Printing", and all users keep printing as if they were not connected to Sentinel.
Some of our customers use just the basic software to monitor network printers and to produce relevant reports.
The trial demo from the web is exactly the installation of the software for monitoring.
The software includes:
Statistics regarding all printed jobs (Overview)
Log (System Events)
Reports including large diversity of filters
Printers pricing - Can be configured to charge its users according to the reports.
SNMP Count - Can be added for accurate printers' counters
Data Collection (BInfo) – Can be added to get printers' counters and other printers parameters
Islands – Can be added for report filtering
The trial license is for up to 10 Push Printers.
To test the full functionality of Sentinel contact us to arrange a demo, external or embedded (possible to install online) controllers can be provided for demonstration purposes.