Overview, architecture, modules and features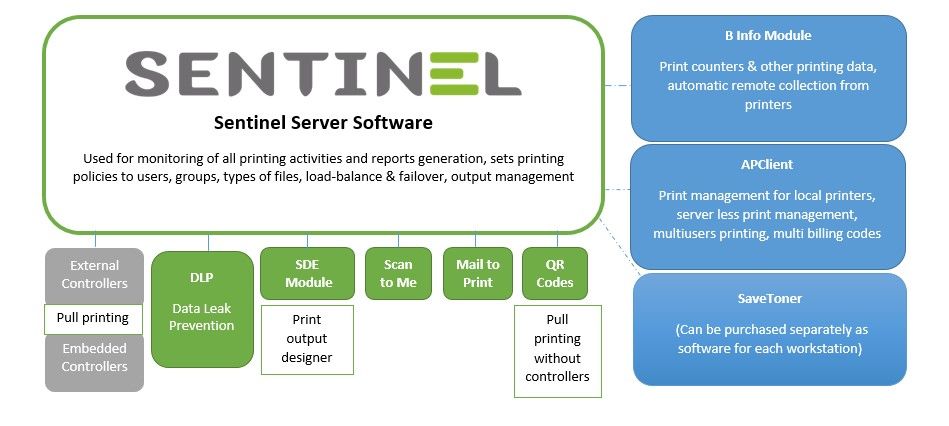 ---
When Sentinel is implemented in the organization, the usual workflow is not disturbed. Sentinel minimises the amount of attention needed from IT department for the print-related issues. The installation and upgrades of client software are done in invisible for the user silent mode and are centralized.
Maintenance of each workstation in the enterprise also requires less attention as Sentinel uses universal printer drivers provided by printer manufacturers. The print jobs are sent to virtual printers defined on the workstations. Sentinel unifies configuration of the workstations as well as reduces the number of printing driver's errors.
When Sentinel is in use the printing process never stops or slows down due to embedded Load Balance & Failover features, the resources are distributed proportionally, and redundancy of printers and print servers is insured.
There is no need to upgrade existing print fleet due to Sentinels compatibility with any kind, make and models of printing devices.  As well as no need to change existing way of user authentication since Sentinel supports the broad variety of authentication methods including PINs, passwords, RFID, biometric authentication, etc.
Sentinel print release controllers can be installed as embedded software into supported printing devices or as external hardware controllers for print/copy/scan functions.
The client application is used to enable multi-users printing on one workstation, and for billing according to multi Billing Codes.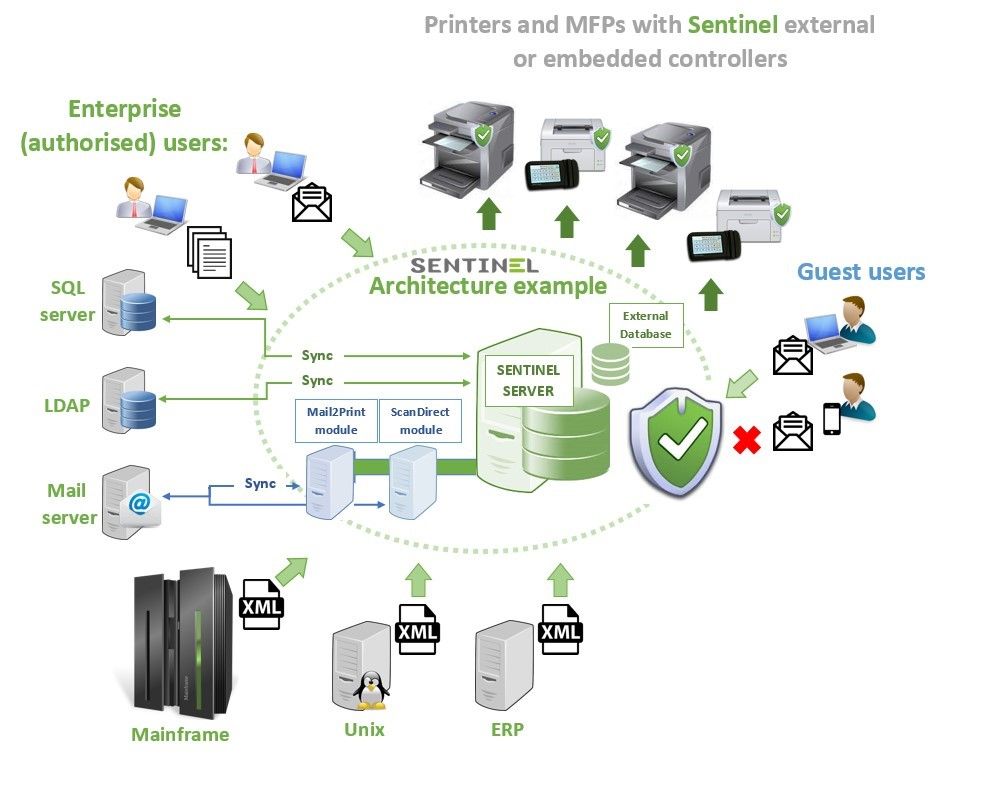 ---
Sentinel by EPaper Ltd. is print management software with flexible, modular architecture that can be customized according to the printing/copying/scanning needs of any type of organization - from small business to global enterprise. It adjusts according to any enterprise architecture.
Sentinel integrates with existing printing infrastructure and opens the possibility to save a large amount of money on toner, paper, electricity and costly maintenance of printing devices. It makes possible to set printing policies for users and groups, enforce duplex printing if needed, control the quality and other parameters of print output. The options for customization are unlimited due to powerful scripting language used in Sentinel. Sentinel uses unique SaveToner technology that makes possible to reduce the amount of toner use across whole enterprise not compromising on quality.
The built-in reporting system will keep track of all printing activity. All printing devices are monitored regardless of connection type – both network and connected locally.
A number of private printers in use can be reduced - it is possible to use network printers instead, keeping the security at the highest level with pull printing technology.
The system uses existing Internet infrastructure avoiding costly or, in some cases, impossible upgrade - using traffic less printing technology when the print job is compressed of only the metadata is sent to print server. Sentinel makes possible to print heavyweight documents even over unstable, slow or interrupted connection keeping printing process intact and secure.
Distributed printing is possible from any data source – Unix, Mainframe, ERP etc.
Sentinel Print Management Software Presentation:
Sentinel print management software will secure your printing, scanning, and copying - but an excellent side-effect of pull printing is that waste is all but eliminated. This means that Sentinel will cut your costs significantly by reducing the waste of paper, toner, and energy - and indeed it will reduce the number of printers you need in the first place. Don't take our word for it though - download and install our no-obligation trial and monitor your print infrastructure for two months. No cost, and no strings attached.
Some of the insights you will gain:
Sentinel Version 4 Highlights:
Traffic-less printing - holding print jobs locally to conserve bandwidth over the WAN, for example in cases when a branch office is connecting to a remote Sentinel server. Useful in cases where having a local print server is impractical or uneconomical.
Server-less printing - secure pull printing without a server, for cases where it is not possible to connect to a server, or where advanced functionality is not a prerequisite.
Dynamic XML forms - allows for easy construction of dynamic forms with tables, graphs, images, bar codes, cheques, or any number of other templates; this can save lots of time and money.
Islands (Multi-Tenant MPS) - these are sub-sites which can have their own groups, users and policies applied. Useful for organisational structures in which different departments, for example, need to be defined.
Improvements:
Improved dashboard interface
Newly added or improved views, such as top ten daily, monthly, weekly users, top ten budget usage, jobs per hour, low toner printers, and many more custom views.
Improved export options for reporting
Improved history display with detailed administrator configuration logs
Graphic views for toner level values
Synchronise to multiple Active Directory domains
Important notice:
No other print management software (other brands or older versions)
should be installed on the server.
---

Server 2008/2012 – IIS Configuration
Before you can install the system on a Windows Server 2008 / 2012 server you should first install Microsoft IIS (Internet Information Services) software on the server.
If IIS is already installed on the server, you should verify that IIS is configured as described below.
IIS installation: 
Select Web Server (IIS)
Click Role Services and under Common HTTP Features make sure Static Content is selected.If not – mark it.
Select Application Development and make sure all its sub-options are selected.
Under Security, make sure Windows Authentication is selected.
Select IIS 6 Management Compatibility and make sure all its sub-options are selected.
If one of the above was not marked, mark it, click Next and then Install. Click Close when the installation finishes.
Sentinel Version 4 System Requirements:
Component:
Requirement:
Operating system for print server

Windows Server 2012
Windows Server 2008
Windows Server 2003
Microsoft Cluster Server
Virtual machines (VM) supported

Operating system for clients
Windows XP or higher
Web browser
One of the following:

Internet Explorer (IE) 9 or higher
Firefox 7 or higher
Chrome 8 or higher

Database

Local database for testing and small environments
Microsoft SQL Server for production and large environments
The database requires a minimum of 100MB but will expand in size as the system is used

Available Disk Space
Minimum: 10GB or greater
IIS
Yes
.Net framework 2.0
Yes
.Net framework 4.0
Yes or higher
Port to Open

TCP Port: 515, 9100, 8081

UDP Port: 161, 162, 7001,  7002, 7003,  65535