---
SNTManager
An application which enables configuration of Sentinel external controller/s in order to control, monitor and upgrade controller's firmware.
All communication is done via UDP using port 65535.
Server 2008/2012 – IIS Configuration
Before you can install the system on a Windows Server 2008 / 2012 server you should first install Microsoft IIS (Internet Information Services) software on the server.
If IIS is already installed on the server, you should verify that IIS is configured as described below.
IIS installation: 
Select Web Server (IIS)
Click Role Services and under Common HTTP Features make sure Static Content is selected.If not – mark it.
Select Application Development and make sure all its sub-options are selected.
Under Security, make sure Windows Authentication is selected.
Select IIS 6 Management Compatibility and make sure all its sub-options are selected.
If one of the above was not marked, mark it, click Next and then Install. Click Close when the installation finishes.
Sentinel Version 4 System Requirements:
Component:
Requirement:
Operating system for print server

Windows Server 2012
Windows Server 2008
Windows Server 2003
Microsoft Cluster Server
Virtual machines (VM) supported

Operating system for clients
Windows XP or higher
Web browser
One of the following:

Internet Explorer (IE) 9 or higher
Firefox 7 or higher
Chrome 8 or higher

Database

Local database for testing and small environments
Microsoft SQL Server for production and large environments
The database requires a minimum of 100MB but will expand in size as the system is used

Available Disk Space
Minimum: 10GB or greater
IIS
Yes
.Net framework 2.0
Yes
.Net framework 4.0
Yes or higher
Ports to Open

TCP Ports: 515, 9100, 8081

UDP Ports: 161, 162, 7001, 7002, 7003, 65535
Save Toner
An application to control and reduce toner consumption
After installing the application:
1. Installation for 30 days (without license):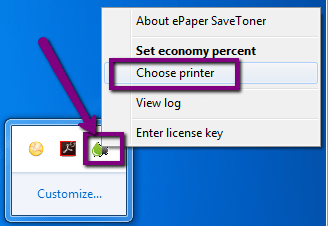 2. On 1st activation a printer should be selected: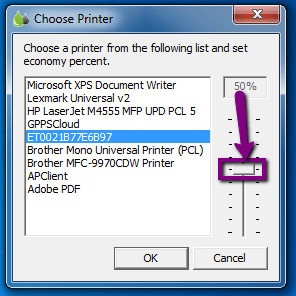 3. After printer was selected – The default is to display only the percentage scale for previously selected printer: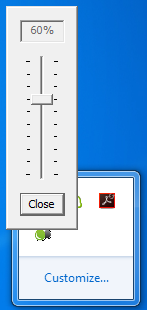 4. If user wishes to change printer or any other operation – Right click on the icon should be used: