LPT to USB adapter
Parallel to USB adapter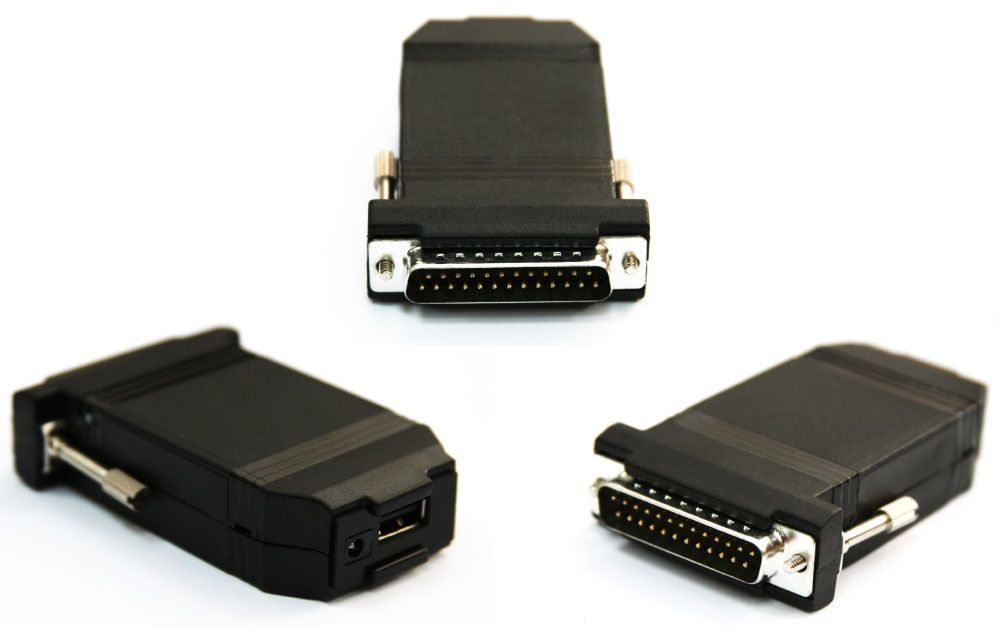 ---
LPT2USB™ has two models, the more popular model (which can be purchased through the website) is DB25-LPT2USB™ (XR00027). It has a DB25 connector and can be connected to the printer with a USB cable.
LPT2USB™ is a parallel to USB adapter - sophisticated device that enables connecting a parallel port of a host system, either a computer or a computer embedded system, to a USB port of a printer. LPT2USB™ solves a well-known and widespread problem of legacy systems that for printing require a connection to the printer via a parallel port. This may be the result of a legacy hardware system that has only a parallel printing port, or a legacy software system that was designed for parallel port printing. Most modern peripheral devices, such as low-cost printers, do not have a parallel port. 
LPT2USB™ is a low cost, long life, plug-and-play connecting device that enables legacy systems to connect via their parallel port to the USB ports of printers. LPT2USB™ works with any host with a parallel port, and it is hardware and software independent. LPT2USB™ takes by default the power supply from the host keyboard. The LPT2USB™ (XR0017) model is embedded in a metal packaging device. It has a USB connector and a power socket on the front panel, and a 36-pin Centronics female socket on the back panel. It connects to any standard printer parallel cable.
To purchase LPT2USB™ (XR0017), fill the form or order online in your country via agents (see the list below).

Download LPT2USB Specifications document 
Buy parallel to USB adapter worldwide from local distributor:
United States
BOSaNOVA inc.

European Union
JACOBI C.E.O.S.

Other Countries
ePaper Ltd

 23309 North 17th Drive
     Phoenix, AZ 85027
     United States
 sales@lpt2usb.net
 +1-623-516-0029
 +1-623-516-8697
www.lpt2usb.net
Zschertnitzer Str. 42
     Dresden 1 01219
     Germany
olaf@jacobi.de
 (+49)-351-4700508
 (+49)-351-4700536
www.jacobi.de
 Rabin Building
     Misgav Industrial Park
     20174, Israel
 contact@epapersign.com
 +972-73-2152929
 +972-73-7253217
www.epapersign.com
LPT2USB - parallel to USB adapter, detailed description
 By a keyboard adaptor, which connects to the PC keyboard port (while still allowing the connection of the keyboard to the host).
By a USB cable, which connects to a USB host port (when available).
 
By an AC-to-DC power supply. Uses 5VDC to 12VDC power supply, 150 milliamps or more. The positive pole is the inside hole. This option should be ordered separately from the local distributor or from ePaper Sales.
LPT2USB parallel to USB adapter - works out-of-box and does not require any additional configuration.
DB25-LPT2USB Package Checklist:
The DB25-LPT2USB product package includes the following items:
DB25-LPT2USB device
PS/2 to DC power cable
User manual
Features:
The LPT2USB device provides the following features:
The LPT2USB takes the data sent to the LPT and transfers it to the USB connected printer.
The LPT2USB works with any printer.
It does not require any specific software or driver to be installed on the PC.
The LPT2USB works with Windows, Unix, Linux DOS, and proprietary embedded systems.
Host hardware type is irrelevant as long as it supports standard parallel LPT port.
USB full-speed communication.
IEEE-1284 1994 (bi-directional parallel interface) specification compliant.
Universal Serial Bus Specification Rev. 1.1 compliant.
Easy plug-and-play operation.
System Requirements:
LPT2USB parallel to USB adapter - works with any machine and any operating system that meets the following requirements:
Any host that has a parallel port with IEEE-1284 1994 (bi-directional parallel interface) specification compliant.
The host should be able to send data that is recognized by the printer. For example, if the printer language is HP PCL Level 3, the application should be able to send a print file that is HP PCL Level 3.
Installation:
Connect the power supply cable (or power cable keyboard or USB to the round power socket).
Plug the device to the PC DB25 parallel port connector.
Connect a USB cable between the USB A connector on the unit and the USB B connector on the printer's panel.
Connect the power supply to the mains power supply, or, if using keyboard or USB cables for power supply, connect it to the keyboard or USB sockets.
Warranty:
The unit comes with a one-year conditional warranty. 
Download LPT to USB specifications.
LPT2USB Troubleshooting
Some new USB printers may accept data received only from the original printer driver. Upon receiving incompatible data they print nothing, unlike older generation printers that print garbled data. Please make sure that you send data compatible with the printer or that you purchase a printer that accepts the format of the data you are printing.
DOS and legacy applications often generate ASCII data. For printing ASCII data with a modern HP printer, the printer must support HP PCL, and ESC/P or ESC/P2, in addition to graphics/raster. Information on the data formats supported by a specific printer is provided in the printer specifications. The printer manufacturer's website usually lists the information under "language support." Before buying a printer that you plan to use with DOS or Windows character applications, ask for printers that support ASCII data. To test if your printer works with DOS or legacy character applications, send ASCII data to your printer, e.g., using the SpoolFile application.