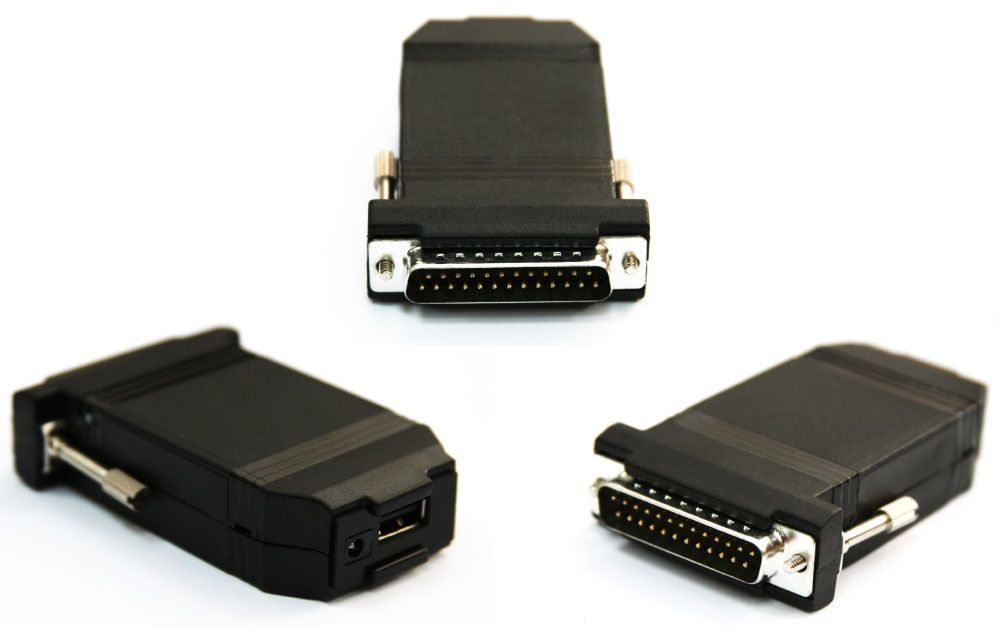 Unit Price $69LPT2USB™ has two models, the more popular model (which can be purchased through the website) is DB25-LPT2USB™ (XR00027). It has a DB25 connector and can be connected to the printer with a USB cable.
LPT2USB™ is a parallel to USB adapter - sophisticated device that enables connecting a parallel port of a host system, either a computer or a computer embedded system, to a USB port of a printer. LPT2USB™ solves a well-known and widespread problem of legacy systems that for printing require a connection to the printer via a parallel port. This may be the result of a legacy hardware system that has only a parallel printing port, or a legacy software system that was designed for parallel port printing. Most modern peripheral devices, such as low-cost printers, do not have a parallel port. LPT2USB™ is a low cost, long life, plug-and-play connecting device that enables legacy systems to connect via their parallel port to the USB ports of printers. LPT2USB™ works with any host with a parallel port, and it is hardware and software independent. LPT2USB™ takes by default the power supply from the host keyboard. The LPT2USB™ (XR0017) model is embedded in a metal packaging device. It has a USB connector and a power socket on the front panel, and a 36-pin Centronics female socket on the back panel. It connects to any standard printer parallel cable.
To purchase LPT2USB™ (XR0017), fill the form or order online in your country via agents (see the list below).
Detailed Specifications for LPT2USB parallel to USB adapter.

Download LPT2USB Specifications document or click here to read more online.