APClient (Advanced Printing Client)
Sentinel print management software controls and monitors not only network printers but also any printers, copiers (printing function) and MFPs connected locally displaying printers' counters and printed jobs. Any type, make or model of printer is supported, with any type of connection: USB, parallel, Wi-Fi, Bluetooth etc.
Sentinel client-server based solution with load balancing support is the optimal solution for environments related to massive printing activity at large organizations. The solution is already installed and working at large organizations of thousands of users each. The solution is very stable and can manage large quantities of printing smoothly and easily.
Multi-users printing, billing quotas (client billing code) and any other policies can be applied both for network and local printers cost effective and considerably reducing printing costs across the enterprise.
Sentinels AP Client can be used as an additional extension of Sentinel Print Management Software or as standalone printing solution in certain situations. With APClient distributed printing to local or network printers in remote branches and offices, not connected by enterprise network is possible from any Data Source (UNIX, Mainframe, IBM AS/400, iSeries, VAX, AIX, etc.).
APClient printing security benefits:
One of the key functions is Data Leak Prevention (DLP) for all printers - even connected locally. No document can be printed without proper user authorization.
More than that, when unknown user will try to print via APClient, an error message will be displayed and the operation will not be performed.
All printing operation are recorded in server log.
Sentinels APClient is installed on each workstation, it identifies user or job's billing code on the local machine, before the job is sent to print. Afterwards the user printing the job (or a specific client) can be charged. Multi users printing, billing quotas and any other printing policies can be applied.
Sentinels APClient installation is done remotely from the server (in silent mode), further update process is centralized and performed from the server. Users and the workflow process are not disturbed and the maintenance is effortless.
Sentinels APClient is optimal print management solution in the situation when several users print from 1 PC or when the print jobs are printed on behalf of different clients that should be charged later.
For example in following situations:
Educational institution, when several users print from one PC, each one having his/her own user name.
Law firms, when the print jobs are printed on behalf of different clients of the organization, to be charged later accordingly.
In regular implementation of APClient both metadata and print job are sent and stored on print server. When using Traffic Less implementation only the metadata is sent to the server, and the print job is stored on station until sending to the printer.
APClient enables users several printing options named Popup Types.
There are 3 Popup Types:
Direct Print – Job is sent directly
Billing Codes – Bill Code to change the printed job will be entered.
Multi User Workstation - User Name of the user sending the job will be entered.
The APClient is installed on workstations working with Sentinel software on the server.
The APClient connected to sentinel server via TCP/IP port (1690 by default). Once the client contacted to the server it sends workstation details (Login user, Driver, IP Address, computer name ….).
That information will be stored in the sentinel DB in Sessions Table to allow the administrator to be updated regarding which workstations has APClient installed and their status as follow:

When APClient update is needed for several or all workstations, there's no need to update each workstation separately.
The required sessions will be marked, and will be updated at once.
The APClient also supports Fail Over and Load Balancing mode.
The APClient has different features:
Printing: APClient enables users to send printing jobs using local printer (APClient) that installed automatically in APClient with special print processor and port monitor. The spooling and the rendering of the print job is done on client side and is stored there. When it's ready the client sends the job file and the control (metadata) file to the server via TCP/IP on port 1690. On server side the job will be added to Sentinel queue for releasing or for push printing. File can be sent in default data type RAW but can also be configured to be sent in EMF data type instead.

Traffic Less: When the client works with Traffic Less mode, the print data will be kept locally and will be sent to the printer when receiving the proper command from the server. The option improves bandwidth in remote environments and is usable if internet link broken. The job is logged in Sentinel as if the file has been sent to server.

Data leak prevention (DLP): The option enables extracting expressions from the text and adding rules. For example: extract "Top Secret" from the text and add rule not to print the calcified job.

Log data collection: Working with APClient can be used not only for printing purpose, but to collect information form printers. To work in such mode, the option should be marked in configuration. Collection can be done for:

"Local Printer Counters" = Collect counter from local (USB, LPT) printers, connected to users' workstations.

"Printer Reporter" = Collect information of printed jobs from users' workstations, both for local and net printers.

One or both options can be marked in configuration, per organization needs.
APClient configuration in web application (Default configuration):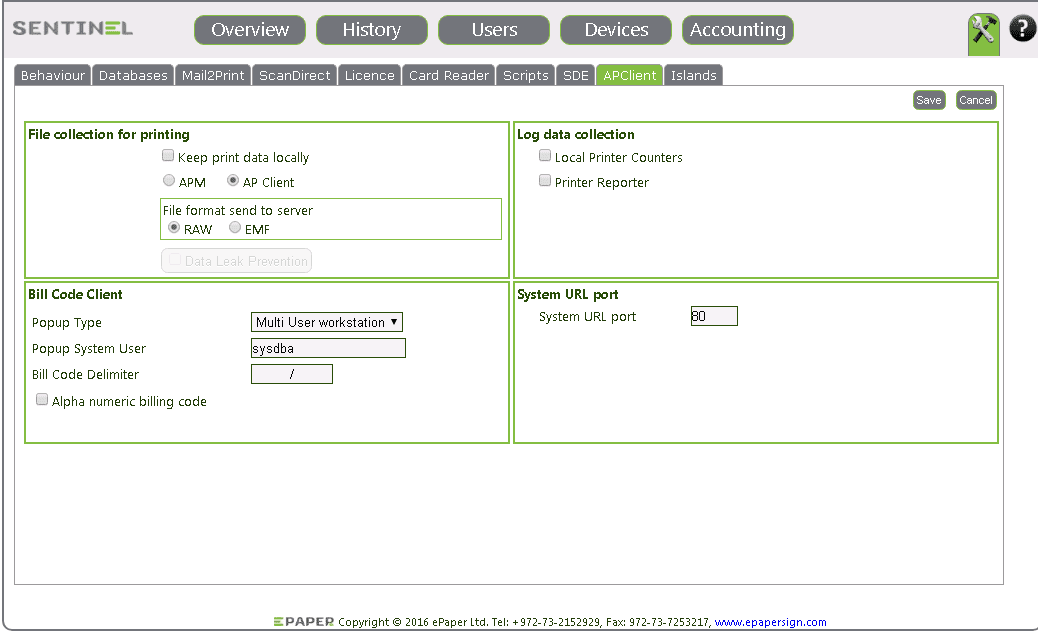 When Log data collection options are marked, the application will display all the needed information.
When "Local Printer Counters" is marked - Select Devices->Data Collection->Local:

When "Printer Reporter" is marked - Select History->History.
All jobs printed by local printers are displayed with status "Printed L":